TF5 – Unique in it´s Class
With its towing capacity of up to 60,000kg / 132,000 pounds, the TowFLEXX TF5 is a true heavyweight and unique in its class. Perfect for Super-Midsize Jets, Military Jets and Helicopters with Single- and Twin-Tires. However, the adjustable nose wheel adapters allow small aircraft to be moved. This makes the TF5 an absolute all-rounder, which is why it is used by FBOs, MROs, corporate flight departments, private owners and military personnel all over the world.
No Towbar, no Damages
Our Aircraft Tugs belong to the Category "Towbarless Tugs". And there's a good reason for that, because safety comes first. With our unique 360° technology, the nose wheel is picked up on a turntable, allowing the tug to move freely around the nose wheel without twisting it.
The newNPS (Nosewheel Protection System) offers even more safety and comfort during the tow. Learn more about the NPS HERE!
More Space, more Revenue
It's a very simple but reasonable calculation: if you have more hangar space, you can accommodate more aircraft – and that's exactly what TowFLEXX aircraft tugs can do! Due to the very flat design and the unique 360° technology, the entire hangar space can be utilized with the TF5.
Aircraft can be parked right up against the wall, or all the way into the corner, as the TF5 requires very little space to maneuver.

2
Two eye bolts allow the TF5 to be additionally secured during transport, or to be towed with in an emergency situation.
3
There are a total of 6 LED headlights on the TF5, which illuminate the track in the direction of travel, as well as providing optimum visibility behind the tug and on the nose wheel. If necessary, these can be switched off via the radio remote control (for example, when night vision equipment is in use).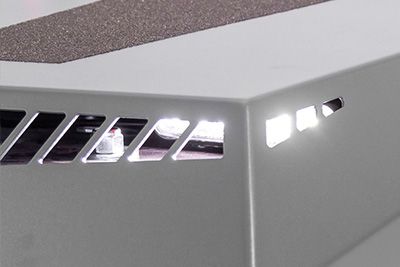 7
360° turntable – with patented mount and turntable motor adjustable nose wheel adapter, which can be adjusted to many wheel sizes. The turntable has different modes, together with the NPS (Nosewheel Protection System) it is controlled fully automatically and always keeps the nose wheel in the direction of travel.
Important key facts:
Towing capacity: 60.000kg / 132.000lbs MTOW
Lifting capacity: 5.000kg / 11.000lbs
Dimensions (mm): 1900 x 2600 x 500
Dimentions (Inch): 74,8″ x 102,36″ x 19,7″
Weight: 1.900kg / 4190lbs
Battery Power: 48VDC
Battery Life: approx. 8km / 5mi. (1,6km / 1mi. under full capacity)
Standard Configuration
unique 360° turntable
10.000W gear motors
intelligent CAN-bus controls
advanced wireless remote control
intelligent built-in battery charger
LED headlights (front & rear)
adjustable nosewheel mount
Chainguards on both sides
Options
NPS (Nosewheel Protection System)
individual painting / labeling
Hitch
Amber strobe beacon
Working light
Snowshield
Snowsocks
Tactical Case for Accessories
additional anti-slip padding
eCube – the central control unit
The TF5 was developed to avoid costly downtimes. In the process, a central control unit was designed in which all electronic components and computers come together. In other words, this "eCube" not only protects the components inside, but can also be exchanged and replaced with a new eCube in a matter of minutes in the event of a malfunction.
This technology allows the modernization of older units as well! This means that new revisions usually feature technical innovations that were not yet installed in previous models (for example, the line assistant or the NPS system). Simply summarized: by installing a new eCube, an existing unit can be revamped to incorporate new features and expand its capabilities.
In addition, the eCube also houses the Charger for the tug, the charger for a spare battery of the radio remote control, a data logger, which can be helpful for error analysis, a display over which hours of operation and possible error codes are displayed, the central key switch to put the unit into operation and further interfaces for programming etc.
1
Joystick for forward and backward movement
2
Joystick for the change of direction
10
Lifting platform up & down
11
Release the magnetic brake during lifting and lowering (standard setting) or lock it, for operations on uneven surfaces.
Remote Control of the TF5
The TowFLEXX TF5 is operated via a multifunction remote control. In the default configuration, it connects via radio, but if the supplied backup cable is connected between the remote control and the tug, any radio transmissions are disabled, which can be quite important for some locations.
Frequency Overlap & Interference
The radio remote controls used operate on a safety broadcast. Due to the LBT frequency search (Listen before Talk), interference with other devices is almost impossible. Before signals are translated into control commands, it is checked whether the frequency channel is being used. If this is the case, the radio remote control automatically switches to a free channel. This process is handled in miliseconds and is not noticeable to the user.
Technical Details
Frequency band: 915,000 – 916,650 Mhz
Channels: 67
HF-Power:
Response time: 15 ms
Operating Temperature: -20 °C to +70 °C
Protection Class: IP65
Weight: ca. 1.000g
Display: 2,4″ LCD
The turntable motor is directly connected to the lifting platform and turntable and offers enormous flexibility on various levels. It also significantly increases safety during towing and prevents uncontrolled movements of the nose wheel. The turntable motor is controlled via remote control and offers a total of four different modes to choose from:
Mode 1: The turntable remains fixed, the tug can be moved freely
Mode 2: The tug can be turned freely around the turntable (360°) without moving the nose wheel.
Mode 3: Only the turntable is controlled. This mode can be used either to adjust the nose wheel or to perform special maneuvers.
Mode 4: The motor of the turntable can be disengaged so that it can move freely. This mode offers incredible flexibility for some types of aircraft, especially when moving around the hangar, and allows manoeuvring in even less space.
Overall, the TF5's turntable motor offers unparalleled flexibility that no other competitor can match. This technology allows aircraft to be parked far into the corner or directly in front of the wall.
The optional TowFLEXX NPS (Nosegear Protection System) makes towing with the TF5 even easier! Although it was already possible on previous TF5 models to always align the nose wheel in the direction of travel, but this had to be done manually by the user via the radio remote control.
The NPS takes over this operation and compensates the tug's movements fully automatically during the towing process. All that is needed is a sensor that is attached within seconds using a suction cup approved for aircraft paint.
In order to complete the towing process and lower the aircraft, the sensor must be removed again. This safety mechanism will prevent this being forgotten on the aircraft.
If manufacturers state in their product descriptions that their products are easy to use, this certainly does not mean that it really is the case. Fortunately, this is not a problem we have to struggle with and we would like to present this to our customers and interested parties.
Of course such a demonstration works best live and on site, but in this short training video a operation with the TF5 on the aircraft is well documented.
By the way, it does not matter if the aircraft has single or twin tires, both can be operated beautifully with the TF5!
ATR 72
Bombardier Challenger 300
Bombardier Challenger 350
Bombardier Challenger 650
Bombardier Global 5500
Bombardier Global 6500
Bombardier Global 7500
Cessna Caravan
Cessna Citation XLS+
Cessna Citation Latitude
Cessna CJ (all models)
Dassault Falcon 900
Dassault Falcon 2000
Dassault Falcon 6X
Dassault Falcon 7X
Dassault Falcon 8X
Embraer Legacy 450
Embraer Legacy 650
Embraer Phenom (all models)
Embraer Praetor 500
Embraer Praetor 600
Fairchild Republic A10
General Dynamics F-16
Gulfstream G280
Gulfstream G450
Gulfstream G550
Gulfstream G650
Hawker 800 XP
Learjet 45
Learjet 75
Lockheed Martin F-22
Lockheed Martin F-35
McDonnell Douglas F-15
McDonnell Douglas F/A-18
Piaggio Avanti P180
Pilatus PC-12
Pilatus PC-24
Sikorsky CH-53
Sikorsky HH-60
This excerpt shows a variety of aircraft currently being towed with the TowFLEXX TF5. This list is not complete and is being updated constantly and includes mainly aircraft of higher weight classes. However, it is also possible to maneuver smaller aircraft such as Piper PA32, Daher TBM or Beechcraft King Air with this tug. Basically, almost all aircraft up to 60,000 kilograms can be operated, as long as ground clearance permits.
Your aircraft or helicopter is not on the list? Contact us!
Bombardier Challenger 350
Bombardier Challenger 350